The Great Ocean Road – The Ultimate Aussie Road Trip
-
When Chris and I found out we couldn't stay in Australia any longer because of our visas, we knew we had to spend our last weekend on the Great Ocean Road. It was just before Christmas and we picked the perfect weekend to do it without realising. It was hot and sunny, yet being by the coast provided an escape from boiling Melbourne, where our friends were suffering in 42 degree heat.
-
Many people do the Great Ocean Road in just a day trip. I wouldn't recommend this. There is so much to explore and driving to the main tourist attraction on the road, the Twelve Apostles, is quite a far drive. However, for us, two nights was the perfect amount of time. Any longer and I think I would have got quite restless.
-
Most people start the Great Ocean Road either in Torquay, or in Angle sea, which was our next stop. That afternoon we went canoeing in Angle sea. As you drive past the town you will see a man renting out Canoes by the river on your right. This is something our friends recommended to us and we probably would not have done otherwise. I'm really glad we did it though. It broke up the journey and was a real laugh.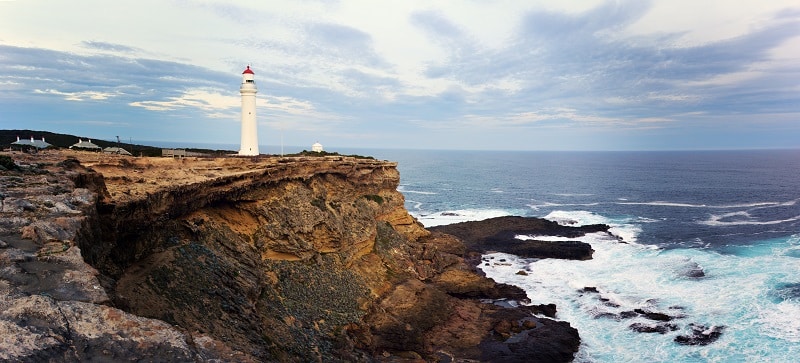 -
After that we headed to Aireys Inlet, where the main attraction is Split Point lighthouse (fun fact: this is the same lighthouse from Round the Twist!). We wandered up and took some typically tourist shots before heading to Lorne, where we camped the night. Lorne is a really nice town which I could have easily spent more time in. Theres loads of cafes and restaurants, a beach, a park and a skatepark.